Prof. Qizhi Tang: 免疫学——让我的生活充满激情
Published at: November 17, 2017 2015年第1卷第S1期
关键词:
---
2017年11月10日-11日,由中国工程院医药卫生学部及南京医科大学主办,AME出版社和江苏省免疫协会协办,南京医科大学附属江宁医院、江苏省转化医学研究院、南京医科大学转化医学研究院及江苏省免疫学会转化医学专业委员会承办的"2017 医学免疫与临床应用高峰论坛"在宁顺利召开。 来自UCSF Transplantation Research Lab的Prof. Qizhi Tang在会上发表了题为"Current Progresses in Treg Cell Therapy"的精彩演讲(图1)。会议间歇,小编对Prof. Tang进行了专访。
图1. Prof. Qizhi Tang
早在2000年,T细胞亚群就受到了广泛的重视。科研人员通过动物模型发现调节性T细胞(Tregs)可以有效的减少免疫耐受的发生发展。如果把Tregs当作是一种药物去治疗人类免疫性疾病呢?Prof. Tang 认为这一想法是走在世界前沿的,但是在临床实验甚至临床应用中,还有很多未解决的难题。Tregs作为管控机体免疫的"宪兵部队",如果特地去限制/突出它的某一功能,那么它本身的稳定性极有可能发生改变。其次,Tregs免疫治疗药物的费用是非常昂贵的,会给患者带来很大的经济负担。
Prof. Tang参观过很多国家的实验室,这些实验室的共同点就是都在进行着Tregs免疫治疗相关的试验,但是让她觉得最特别的还是南京的GMP Lab。 Prof. Tang认为GMP Lab有着和其他实验室不一样的科研氛围,尤其是在规模还是科研人员配置方面。此外,Prof. Tang认为GMP Lab将会在一定程度上推动Tregs免疫治疗这一研究领域的发展。
免疫学是一门有趣并且复杂的学科,Prof. Tang和我们分享到,最初之所以决定投身于免疫学,是因为发生在身边的一件比较有趣的事情。想知道到底是怎样有趣的事情吗?请点击下方视频吧。
采访问题
1. Could you briefly introduce the recent advances in Treg Cell Therapy? What are the challenges we are facing? What do you think about its future?
2. We learn that you have visited the GMP Lab in Nanjing several times, what do you think is the unique feature of this Lab?
3. Can you give some suggestions for the students who are pouring their lives into the field of immunology?
人物聚焦:Prof. Qizhi Tang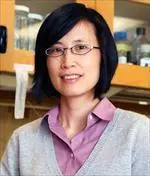 Prof. Tang received her bachelor's degree at Peking Union Medical College in China. She completed her graduate education in the US, getting her master's degree from the University of South Alabama and her PhD from the University of Illinois at Chicago. She completed post doctoral fellowships at the University of Illinois at Chicago and under renowned immunologist Dr. Jeffrey Bluestone at the University of Chicago and the University of California, San Francisco.
Prof. Tang joined the staff at the University of California, San Francisco in 2002 as an Assistant Professor of Pathology in the Diabetes Center where she focused on immune tolerance. She joined the transplantation department in 2007 to lead basic research on transplant immunology. She now focuses on regulatory T cell biology. She is one of the first to grow regulatory T cells and apply these cells in experimental therapy.
The Tang lab focuses on translating knowledge on mechanisms of immune tolerance into novel therapeutics for treating autoimmune diabetes and preventing transplant rejection. Currently, two major areas of work are on therapeutic application of regulatory T cell therapy in type 1 diabetes and transplantation and immune modulation to enable immune suppression-free transplant of stem-cell-derived beta cells for treatment of type 1 diabetes.
图2. 花絮照片
---
采写编辑:闫梦梦 AME Publishing Company
视频剪辑:麦雪芳 AME Publishing Company