WCLC 2017专访 | Prof. David Ball:预防性颅脑照射或是小细胞肺癌患者的福音
Published at: November 22, 2017 2015年第1卷第S1期
关键词:
---
编者按:2017年10月15日-18日,由国际肺癌研究协会(IASLC)举办的第18届世界肺癌大会于日本美丽的港口都市横滨圆满召开。此次学术盛会吸引了全世界众多从事肺癌研究,临床工作及预防控制领域的专家学者关注和参会。澳大利亚墨尔本彼得·麦卡伦癌症中心的Prof. David Ball在会上以"General Principles of PCI in the Treatment of SCLC"为题进行了分享。Prof. David Ball是Second Edition of IASLC Textbook的主编之一。会议期间AME编辑很荣幸采访到他,听他分享预防性颅脑照射在小细胞肺癌中的治疗作用以及对小细胞肺癌治疗的展望。
人物聚焦:David Ball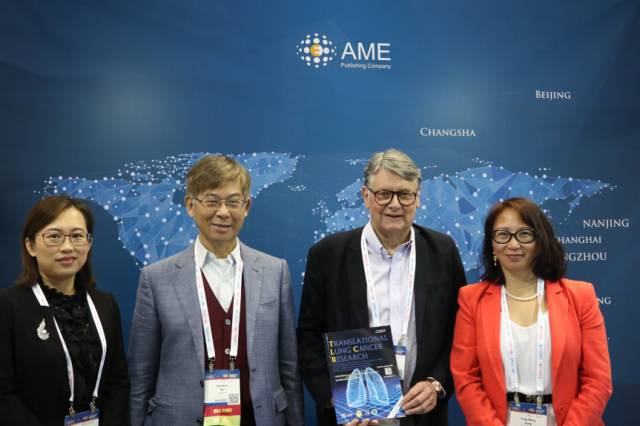 Professor David Ball is the Director of the multi-disciplinary Lung Service at Peter MacCallum Cancer Centre. He has published over 190 book chapters and papers in the peer reviewed literature. He is one of three editors of the textbook "The IASLC Multidisciplinary Approach to Thoracic Oncology", 2016 update in preparation. Professor Ball is Editor-in-Chief of the Journal of Medical Imaging and Radiation Oncology and is on the editorial boards of Nature Clinical Practice Oncology and Clinical Lung Cancer. He is currently Chair of the Australian Lung Cancer Guidelines Working Party and a member of the Mesothelioma Guidelines Working Group. Professor Ball is Chair of Cancer Australia's Lung Cancer Advisory Group. He is a member of the International Association for the Study of Lung Cancer TNM staging committee, which is updating the staging of lung cancer for the 8th edition. He is a Professorial Fellow of the University of Melbourne.
Professor Ball's research interests include lung cancer staging, tumor imaging and definition, image guided radiotherapy, determinants of radiation response and combined modality therapy.
图1. Professor David Ball(右二)与三位专家在第18届世界肺癌大会期间在AME展位前合影
在采访中,Professor David Ball 谈到:自1999年起,研究显示预防性颅脑照射(PCI)不仅减少了小细胞肺癌癌细胞脑转移发生率,也提高了总体生存率。脑部肿瘤通常都是结构复杂,而且十分难治愈的,它会导致患者记忆力减退,听觉能力减弱,以及自理能力丧失等,这正是肿瘤患者们普遍担心的问题。因此PCI在小细胞肺癌患者中的治疗过程中显得尤为重要。谈及对小细胞肺癌治疗的展望时,Professor Ball说他希望可以将肿瘤治疗过程中产生的副作用减小到最低,在提高治愈率的同时也提高患者的生活质量,让患者接受治疗时不住院,可以像健康的人一样逛街,吃饭,探访亲朋好友。
采访问题
How does Prophylactic Cranial Irradiation (PCI) benefit patients with extensive and limited-stage small cell lung cancer?

What do you think about immunotherapy in the treatment of small cell lung cancer?

What will you expect for SCLC treatment in the near future?

You are one of the editors of the second edition of IASLC textbook, would you like to briefly introduce this book?
更多精彩内容,请观看下方视频:
---
采写编辑:刘小妹,AME Publishing Company
视频编辑:麦雪芳,AME Publishing Company
责任编辑:陈媛玲,AME Publishing Company
学术审核:张开平,AME Publishing Company