Dr. Marco Scarci:手术技巧与医学科研同样重要
Published at: November 03, 2017 2015年第1卷第S1期
关键词:
---
编者按:2017年10月20-21日,第四届国际胸腔镜手术研讨会(The 4th International VATS Symposium)在英国伦敦皇家医师学院顺利举办。国际上具备影响力的胸外科专家们齐聚一堂,围绕胸外微创手术的使用现状,先进的手术技巧以及未来发展方向进行了探讨。AME编辑小分队也借此机会,携带旗下Journal of Visualized Surgery (JOVS)等杂志前往伦敦,为大家献上精彩报道。
会中我们有幸采访了本次研讨会的主席Dr. Marco Scarci,他针对此次会议以及胸腔镜手术目前存在的问题发表了自己的见解(图1)。Dr. Scarci表示今年是第4年举办研讨会,不仅参会人数增加了,而且有了前几年经验的累积,会议的质量也得到保证。Dr. Scarci还指出近年随着微创时代的来临,研讨会的主题也实现了从单纯的胸腔镜手术,到单孔,再到机器人手术纳入议程的演变。因此本次会议上VATS与机器人手术之争引起了热议,成为会议的最大亮点。
人物聚焦:Marco Scarci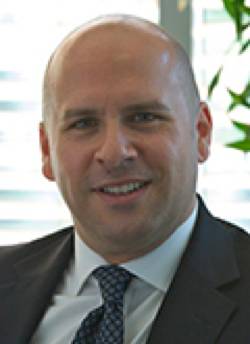 Marco Scarci, MD
Department of Thoracic Surgery, University College London Hospital, London, UK. Dr. Scarci undertook his specialist training in Italy, Malta, Essex Cardiothoracic Centre and Guy's and St Thomas. He spent six months between University of Toronto and McMaster University for a fellowship in minimally invasive surgery. Dr. Scarci's practice is in pure thoracic surgery. He works closely with a large team including other surgeons, specialist nurses, radiologists and physicians to provide together with them the best outcome for patients. His key focus is minimally invasive surgery.
Most of Dr. Scarci's work is now performed through single port approach after visiting Dr. Diego Gonzalez Rivas, a pioneer in this type of approach. He is currently chairing the ESTS chest wall and pleural disease working group and leading on the development of the European Chest Wall Database. Dr. Scarci is also a member of the UK National Institute for Clinical Excellence preoperative tests working group.
图1. AME编辑与Dr. Marco Scarci合影
谈及胸腔镜手术,Dr. Scarci认为这类手术虽然已经相对成熟,但仍缺少大量的文献和数据证明它的优势及治疗效果。胸外科医生不能只埋头于做手术,也应尽量多参与医学研究,发表优质文章,更好地推广胸腔镜手术的应用。
Dr. Scarci钟情于胸外科,能够通过手术治疗患者,见证病患康复对他来说是很开心并且极具价值的事情。他希望年轻一代的胸外科医生能够像他一样不安于现状,学会顺应时代做出改变,在临床,科研,医学教育等方面实现全方位发展。
现场答疑
As one of the co-directors, do you think what's the theme of this symposium? And would you like to share some highlights for this symposium with our readers?

Could you give a brief introduction of the presentation you did yesterday?

Based on your experience, what remain the issues in Uniportal VATS? And what are your opinions? (For example, how to solve these problems? What surgeons should do?)

We learnt that you have keen interest in medical education, so what do you think should be the focus of medical education? (For example for those who want to be thoracic surgeons)

What's your greatest sense of satisfaction of being a surgeon?

Do you have any suggestions for the young thoracic surgeons?

Could you kindly use one sentence to summarize this meeting? And do you have any plan for the next years' symposium? If yes, what would be the topics you want to discuss?
---
采写编辑:张 燕,AME Publishing Company
视频编辑:麦雪芳,AME Publishing Company